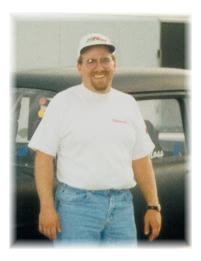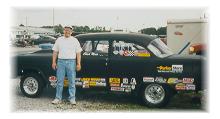 Driver: Chad Moss
Hometown: Amherst, OH
Occupation: Electrohydraulic Systems Engineer
Parker-HVD
Car Type: 55 Chevy drag car
Motor: 454 Chevy naturally aspirated
Home Tracks: Norwalk Raceway Park, OH - www.dragrace.net
Highlights: Earned a best 3rd place finish this year. Have been racing for 5 years. Have become serious in the last two years.
Goals: The goal for 1999 was to improve upon last years results and keep the car in one piece. I have almost doubled my round wins and the car is still intact and running very consistently. The goal for 2000 will be to make it to the top 20 in points and possibly break into the 10 second range.
Just a little background: The car is set up for the 1/4 mile drag strip. It weighs approx. 3000 lb. and has run a best time of 11.01 seconds with a top speed of 119.87 MPH. I have been running this car for 3 years and raced an 82 Camaro before this.