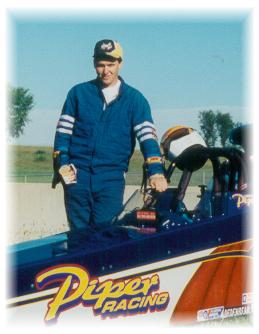 Driver: Larry Piper
Hometown: Wamego, Kansas
Occupation: Braider Cell Operator at the Manhattan Plant (10 years)
Family: Wife Renee with 2 sons, Bryan-11 & Todd-8
Car Type: 1998 Neil & Parks Super Comp. dragster
Wheelbase: 235 inches
Motor: 540 Cubic Inch Chevy
Horsepower: 800 H.P.
Weight:1720 lbs. with driver
Best Speed:169.86 - 1/4 mile
Best E.T.:7.78 - 1/4 mile
Sponsor: Prime Industries, Olathe, KS
Highlights: 1999 Orielly Auto Parts Heartland Park Topeka points Champion. 1999 Orielly Auto Parts E.T. Driver of the year. 1999 McAmis & Schorr Div. 5 Super Quick Series points Champion. 1999 Sears Craftsman E.T. Driver of the year NHRA Div 5. 2000 NHRA Summit Racing Series Div. 5 Champion. 2000 National Summit Racing Series Runner-up.
Thank You to Bill Baethke at Prime Industrial for joining our team in 1999. We hope to help Bill and the ParkerStores continue to grow with added exposure on the NHRA circuit.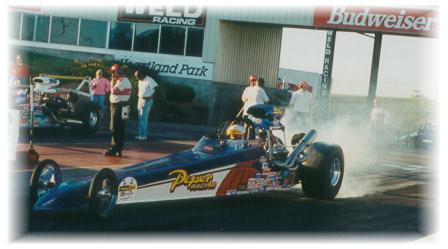 Back