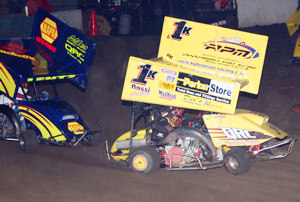 Red Bluff, California – ParkerStore Outlaw Sprint Kart driver Kyle Larson raced to another top five finish at the Les Schwab Tires Winter Indoor Series inside the Tehama County Fairground Pauline Davis Pavilion. As round 11 of the championship chase was held Saturday, February 10th Larson drove a steady race on the tight little bull ring and placed third at the lap 30 checkered flag.
Larson qualified second of the 25 entries in the 500cc Open Intermediate Division and started fourth in the second heat. Larson garnered a third in the heat to advance to the feature race. Larson lined up fifth for the six kart six lap trophy dash and, after a slight miscue on the opening lap, closed a straightaway gap to just trail the lead pack at the checkered flag.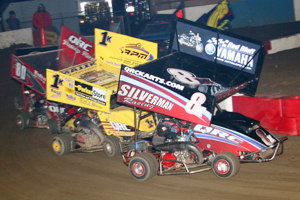 Larson gridded his ParkerStore/Grandpa George Motors/QRC Factory Kart fifth in the 16 kart field for the A-Main and fell back to sixth on the opening lap. By the sixth circuit Larson had gotten back to fifth with a pass of Shane Graham. On lap 10 second running Kenny Allen lost power, moving Larson into fourth. Larson had been battling race long with Brian Southers, with each driver advancing positions in tandem. Finally, on the 23rd lap Larson executed the pass of Southers that led to the podium finish, as he trailed pole starter Andrew Cumpton and point leader Dillon Silverman at the finish.
After the races Larson commented, "The track was real nice today. We had had a lot of rain off and on all day. With so much moisture in the air and with karts bringing water into the building on their tires and wings it really helps keep the track tacky. It's still a tough track to pass on but it is real fun to race on when it is tacky like this. In the main, I had to really fight to hold people off behind me, especially Brad Patchen, while also trying to move forward. When it was all over it was a pretty satisfying third place finish and I'll take it."
Race: February 10, 2007
Photos Courtesy of Jack Waterman
www.kylelarsonracing.com