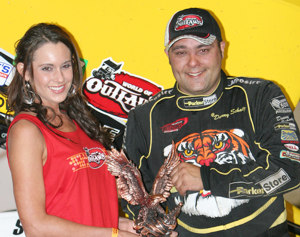 BARBERVILLE, FL (Feb. 9) - Donny Schatz began the 2007 season just the way he ended his 2006 championship campaign...in victory lane. Schatz raced the No. 15 ParkerStore J&J with Shaver power to victory in Friday night's World of Outlaws (WoO) 2007 season opening "A" feature.
Schatz started from the pole, but fell to third on the opening lap before reeling in second place runner Danny Lasoski on lap eight. Four laps later, he passed leader Joey Saldan to take command of the 25-lap feature. Schatz mastered lapped traffic and led the final 13 circuits to pick up his first WoO win of 2007.
"It was a great night," said Schatz, the defending WoO champion. "We qualified really well. It's a very good race car. We have a new package, and new faces. All the new faces are adapting superbly. I'm as pumped up as I have ever been. I can't wait to get in the car again tomorrow. I want to get racing, and I want to get racing every day and try to get everything we can."
The Fargo, ND racer began the night by turning the second fast qualifying lap in the 58-car field. He raced from fourth to second in the second heat race, which earned him a position in the dash event. Schatz started third in the dash and raced to victory to secure the pole position.
"I want to thank all the fans that came out tonight," continued Schatz. "We had a great race for them to see and it was a good showing for all of our partners, ParkerStore, Bellerud Transport, Petro and Snap-on. Our race car performed very well and we're going to keep working to get better the next couple of nights."
"This win means a lot to our news guys (crew chief Dave Lawrence and crewman Brad Sparks). It's good to get that first win under their belts with us. (crew man) Shane (Bowers) was with us last year and all the guys did a great job tonight."
"We got some news from back home and I do want to dedicate tonight's win to a family friend, Barb Torgerson. She's been battling some medical issues and we hope she can take a little joy from our win tonight and keep her spirits up."