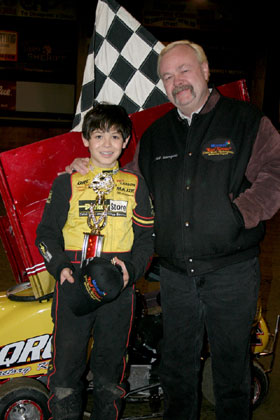 Red Bluff, CA - After a three week holiday break Outlaw Sprint Kart racing action resumed at the Red Bluff Winter Indoor series inside the Pauline Davis Pavilion and ParkerStore driver Kyle Larson was able to bounce back from an early race backwards shuffle, resulting in a fifth place finish in the 500cc Open Intermediate main event. Larson added 55 pounds of weight to his kart and qualified for a delayed Pistol Pete Johnston in the Open Division and set third fast time in the 50 kart field. He also sub drove for an absent Dylan Pemberton in the Intermediate 250cc division and garnered second in that feature race. A highlight of the night saw Larson win the 250cc trophy dash sponsored by Microsoft "Real Heroes" Grass Roots Motorsports Sponsorship Program.
In the 500cc Open Intermediate division Larson qualified second to Mason Moore and started seventh in the fully inverted seven kart heat race. Larson powered his way to a second place finish behind Derek Copeland to transfer into the A-Main. He started fifth in the six kart six lap trophy dash and came home fourth as Garrett Mills got the win.
Larson lined his ParkerStore/Grandpa George Motors/QRC Factory Kart third on the 13 kart A-Main grid. Polesitter Keith Bloom took the lead at the start over Jake Park, Moore and Larson. In turn four of lap two Park half spun collecting several karts behind him, including Larson. Although everyone was able to untangle without drawing the yellow flag, Larson was bounced to eighth. Lap seven saw Larson emerge from a four lap tussle with Mills to take over seventh. On lap 13 he got by a slowing Alissa Geving to move into sixth. Three laps later Larson overtook Dillon Silverman for fifth and closed a large gap on fourth running Andrew Cumpton but ran out of time to settle for fifth, as Bloom led every lap to capture the win.
After the races Larson said, "It felt good to get back to racing again. I don't know if I've been off for three weeks since my first season of racing. My ParkerStore kart felt real fast all day long and starting third going into the main I thought I could get my second win in a row here. But when Jake got loose that took away about any chance I had to win. Starting position is so important here and with the competition we have coming from that far back is tough. Next week I'll miss my first race ever at Red Bluff but it will be worth it because we're going to the Chili Bowl in Tulsa, Okalahoma. My goal is to put together a sponsorship package to get me into a midget for next year's race, so we're going this year to check everything out. I can't wait!"
Race: January 7, 2006
Photos Courtesy of Jack Waterman
www.kylelarsonracing.com