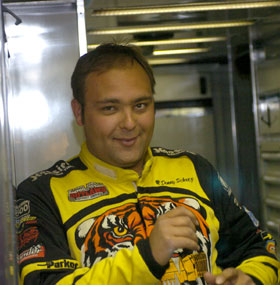 GRANVILLE, NSW, AU (January 8) - When it comes to racing, finishing second can sometimes be the worst feeling. World of Outlaws sprint car star Donny Schatz has had to deal with that feeling several times in sprint car racing's premiere event, the Knoxville Nationals, and on Saturday night thanks to a last corner pass, Schatz won his fifth $50,000 Sprintcar International event at Parramatta City Raceway (PCR) driving the Gary Rush owned #2 J&J with Shaver power.
"My hats off to Joey Saldana, he did one hell of a job," said Donny Schatz, who battled with Saldana swapping the lead five times during the 40 lap feature event. "I think Brian Healey should pay fifty grand for first and second, he (Saldana) deserves it."
In the Tyrepower $50,000-to-win Sprintcar International, which could be described as mind-blowing and an instant classic, it was Joey Saldana that had to settle for second place.
"I didn't think I was going to get him, he was better than us," continued Schatz, who won Friday's preliminary feature and four of his five starts on Australian clay. "For most of that race I was trying to run underneath the cushion, and it just wasn't working. Then he drove right around us on the cushion. Normally you can't run for forty laps on a cushion that treacherous - but he proved me wrong. He went up there and did it, and obviously he made me get up there to try and keep pace with him.
"We just got one hell of a run on that last lap and as I came into turns three and four, he was parked up on the top in the lapped traffic and we went right on by.
The race lived up to the billing with all of the hype and prestige surrounding the event. Schatz, who was locked into the race following Friday night's preliminary victory, knew this race would be difficult. Before leaving the United States, he admitted that each year this race gets tougher and tougher to win.
The American's Schatz and Saldana staged an epic battle that many in attendance won't soon forget. The Fargo, ND racer admitted he was pretty energized during the feature.
"We drove side-by-side for forty laps and he drove so clean," concluded Schatz. "It was exciting from where I was sitting, so it had to be good for the folks on the hill."
The ParkerStore sponsored driver will continue to pilot the Gary Rush owned #2 J&J on PCR clay Wednesday night (Jan. 11) as he continues to prepare for the 2006 World of Outlaws Sprint Series opener at PCR. The three-night "Outlaws Down Under III" program kicks off the tenth WoO campaign for Schatz on January 19-21.