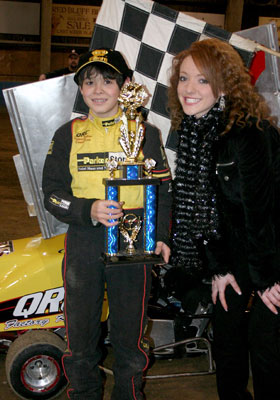 Red Bluff, California – ParkerStore Outlaw Sprint Kart driver Kyle Larson won for the third week in a row as he sub drove for an absent Trevor Tennison in the 125/250 Intermediate division. After completing the flag to flag win he immediately jumped into this 500cc Open Intermediate kart and drove from tenth to second to cap a successful comeback after transferring from the B-Main.
Larson qualified sixth quick of the 27 karts on hand in the 125/250 division. That would be the last time during the night that the ParkerStore/Team FBR Motors/QRC Factory Kart would not be at the top of the results. Larson sped to the wins in the third heat and trophy dash, completing daring outside passes of Dylan Pemberton and Brian Southers, respectively, and finished with large margins of victory. The inversion put Larson on the pole of the feature race with point leader Southers outside. Larson powered out of turn four at the start and took a lead that would not be challenged. Larson's lap times were usually three tenths of a second faster than runner-up Southers and the 13 year old from Elk Grove, California won by nearly a half lap.
Larson qualified fourth fast of the 22 karts assembled in the 500cc Open Intermediate division. He started third in the first heat but could only manage a fourth place finish, placing him into the B-Main. He also started third in the six kart six lap trophy dash and closed rapidly on leader Brad Patchen over the last couple of laps, nearly taking the win. Larson began the B-Main outside of Derek Copeland on the front row and jumped into the lead at the start. He maintained the position to a comfortable win, earning a transfer spot into the A-Main. Larson started tenth in the feature and was up to sixth by lap two. On lap three Larson moved by Andrew Cumpton into fifth and passed Robert Marcos for fourth on the seventh lap. On lap nine third place Daniel Thorson spun in turn two, giving the spot to Larson. On the tenth circuit race long leader Dillon Silverman half spun in turn two allowing second place Mackena Bell to inherit the lead, while Larson also moved by into second as Silverman recovered and continued on. The last ten laps saw Larson's Grandpa George powered mount applying heavy pressure on Bell, but the Carson City, Nevada pilot held steady to record her first win of the Red Bluff season.
When the checkered flag fell Larson commented "I'm glad to get the win in the 250cc for Trevor Tennison, who couldn't be here tonight. It's funny with that kart though, because we struggled over at Lakeport the last two weeks and I could only get a couple of fourth place finishes. But we come here, with a lot more competition, and the thing was a rocket ship. I guess the team FBR engine that Lorne Briggs is providing me really likes the long straights and tight turns here. My 500cc kart was really fast tonight also. I knew I had a fast kart after the B-Main and trophy dash. We'll take a second place finish and keep our hopes up to get the championship. I think I cut Mason Moore's point lead to 37 with two races to go and anything can happen here."