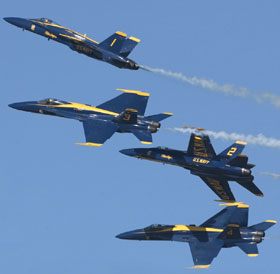 FARGO, ND (February 20) - On Wednesday, March 1, World of Outlaws sprint car star Donny Schatz will take the ride of his life as he climbs aboard the U.S. Navy Blue Angels F/A - 18B Hornet for an hour-long orientation flight.
The morning will begin with Schatz completing a mandatory safety brief prior to strapping into the jet at Naval Air Facility El Centro, CA. After takeoff, the plane will climb from 10 feet off the ground to 5,000 feet in a matter of seconds as he begins with a low transition takeoff to a high-performance climb. Schatz will ride along with Lt. Kevin Davis as they do most of the maneuvers that the Blue Angels perform in a normal air show demonstration. The flight will include nearly 40 minutes of maneuvering that will sometimes reach 7.5 times the force of gravity.
"I'm really excited about having the chance to fly with the Blue Angels," said Schatz. "I'm fortunate to go fast for a living and also get to do a lot of flying, but this will be a once and lifetime deal. It's an honor to represent the World of Outlaws and our corporate partner Parker Hannifin during this occasion. Parker has a number of parts on the F/A - 18 that I will be riding in, which is really cool, too."
"The Blue Angels are fired up to have the opportunity to fly Donny Schatz as a VIP during this our 60th anniversary season," said Lt. Garrett Kasper, U.S. Navy Blue Angels Public Affairs Officer. "He has a tremendous reputation in the racing circuit as the 'Winged Warrior' so we're looking forward to see how his wings work thousands of feet above the track!"
Schatz, a World of Outlaws sprint car star, will have his ParkerStore sponsored #15 J&J sprint car at the base for photo opportunities and interaction with the onsite crew. Ironically, the F/A-18 has more than 25 systems that use Parker components, including the fuel system, cockpit display, landing gear, anti-icing and nose wheel steering.
"We are thrilled that Donny received this opportunity," stated John Strand with ParkerStore Racing. "Donny has been involved with several of the Parker business units since the inception of our motorsports relationship. He has toured many of the Parker facilities around the country, including the Stratoflex Aerospace facility in Fort Worth, TX. There are a number of our components used on the F/A-18, and it is great that he gets this up close and personal look at how our products are used. He has been the Parker "Winged Warrior" on the dirt tracks around the country, but now it's time for him to see how the boys with real wings get it done."
Schatz and Parker would like to thank the 2006 Blue Angels and Eric Malies for making this opportunity become a reality. Malies, a U.S. Navy Chief Petty Officer, is the son of Art and Carol Malies, who have traveled the country operating Workin Woody, the official push truck and safety vehicle of the World of Outlaws series, for the past 19 years.
As international ambassadors of goodwill, the Blue Angels have played an integral role in Navy and Marine Corps recruiting and retention for sixty years. By publicly demonstrating the skills and abilities of naval aviators, they help attract many talented and ambitious young people to career in the armed forces, while also reinforcing the pride, professionalism and teamwork found in the Navy and Marine Corps. Orientation flights, like the one Schatz will take, greatly enhance this effort through the positive national media exposure it generates.
The entire experience will be captured by the Outdoor Channel and aired during an upcoming World of Outlaws telecast.
Keep up with all the latest news on Donny Schatz by logging onto www.donnyschatz.com and www.parker.com/racing .