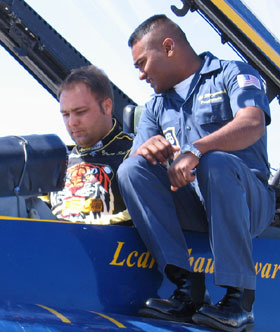 El Centro, CA ó March 1, 2006 óDonny Schatz played it cool, listening intently as Sgt. Deo Harrypersaud briefed the World of Outlaws Sprint Series star about an hour before Lt. Kevin Davis took him for the ride of his life.
Schatz soared through the sky Wednesday above El Centro, Calif., in a U.S. Navy Blue Angels F/A-18B Hornet, a machine with a little more kick than his No. 15 ParkerStore J&J that heíll race Friday night in the Cactus Classic at Manzanita Speedway in Phoenix, Saturday night at USA Race Park in Tucson and next Thursday and Friday at The Dirt Track at Las Vegas Motor Speedway.
Shortly after takeoff, Lt. Davis, a Top Gun instructor, powered Schatz straight up to 5,500 feet in mere seconds. They broke the sound barrier and pulled 7.5 times the force of gravity, almost double what he can pull in his sprint car. And through it all, Schatz kept his calm, and consciousness.
After a preflight briefing, Schatz wasnít too sure how his body would handle the experience. ďIím excited and scared both,Ē said the 28-year-old Mean 15 racer from Fargo, N.D. ďI donít want to pass out, but I guess it might happen.Ē
After an hour of maneuvers over Southern California with Lt. Davis, Schatz was at a loss for words to explain what he had just gone through in a plane that includes more than 25 systems that use components from his sponsor Parker, including the fuel system, cockpit display, landing gear, anti-icing and nose wheel steering.
ďThe things they do with these planes are unbelievable,Ē he said. ďYou donít have time to think. Itís amazing what you do. We rolled straight up in the air and went to 5,500 feet in a matter of four or five seconds. The G-force that sits you back in your seat, gets you all woozy. Itís a real scary feeling, but itís amazing. You can look out to the side and see the ground back here like this, and then itís up here, then its here. Itís hard to describe, but the airplanes here are definitely performers, and better than that are the pilots who are able to deal with the environment the way they do and know where they are at all times.Ē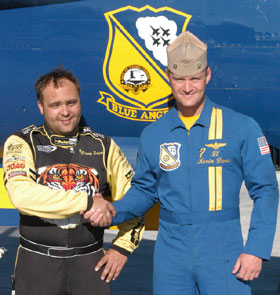 Lt. Davis was impressed with how Schatz handled the ride. ďIt was great,Ē he said. ďDonny was a real sport about it. He handled himself very well. He was used to the confined space being a race driver. I think he felt pretty comfortable in the jet once we got up there. Flying around upside down did not bother him one bit. He seemed pretty comfortable hanging in the straps there. It was a pleasure. It was great to take him up flying.Ē
Schatz, who is a licensed pilot, never experienced anything in flight as he did on Wednesday. ďThereís nothing quite like this,Ē said Schatz, who dominated the winter in Australia with eight victories and picked up another win in February at Volusia Speedway Park. ďI was shown how they do some tactical maneuvers above the ground and you canít explain it. The sheer performance and the power and the sophistication of the computers on board these things Ö we went from 120 knots to well over 600 in a matter of 20 seconds. You can feel yourself by leaps and bounds getting faster by the second. Itís amazing how it works and youíre only 50 to 100 feet off the ground in some spots. Itís indescribable is what it is. You have to really go along for the ride to realize it. You can see what you want in the movies, but it doesnít do it any justice as to when youíre sitting in that cockpit and seeing everything. You can see the pilot in front of you, but you can see everything out to the sides. Itís just beautiful. Itís nice and quiet; you can hear the wind going over the canopy.Ē
The Blue Angels represent the U.S. Navy and Marines around the country each year, providing selected individuals a chance to experience the unreal thrills. Sometimes the passengers handle the experience better than others. Pulling 7.5 Gs in a minimum radius turn for about 12 seconds, Schatz experienced more than 1,400 pounds of pressure on his body, enough to make the blood rush out his head if not for some techniques he learned in the preflight briefing.
ďThe G-forces that you pull, itís very hard to maintain consciousness,Ē said Schatz, who normally pulls about 4 Gs in his sprint car. ďI donít know if I was conscious or not. I couldnít see anything, all I could see was black but I could feel myself holding on. I know I was pretty close to going out if I wasnít out. Lt. Davis says I wasnít out. Itís just kind of scary to have those circumstances in your environment, but thereís just a lot of maneuvers that require focus and being able to flex certain muscles in your body to maintain the blood in your head. It wore me out awful quick.
ďWe maxed out at 7.5 Gs. You donít feel 4 Gs in a sprint car, maybe itís because we do it every day, but obviously they do 7.5 every day and they understand how to cope with that and how to deal with the environment. They showed me a little bit how to do it, and I tried but it doesnít take much to put yourself in a situation where you are blacked out. Those guys do it and maintain full control of those airplanes in battle. They really know what theyíre doing when they get behind the stick of these things.
ďThereís excitement there, but itís a different kind of excitement. When we got to 6.5 Gs and I was starting to see black, it changes your views a little bit. Itís a scary excitement. You canít describe how much fun it was, but in the same sense you have fun and scary all in the same sentence. Anybody who has experienced it probably knows where Iím coming from.Ē
Schatz says his nervousness before the Blue Angels ride doesnít compare at all with his experiences before competing in a major race. ďI wouldnít think of getting as nervous at the Knoxville Nationals as I was today,Ē Schatz said. ďEvery time these guys strap in these things, thereís a chance they might not come back, that they might not come down on the ground on the wheels. Any time you get in an airplane you have that thought. Even though itís just a casual thing, anything can happen. You always keep that in the back of your mind. The safest place I feel is in my racecar. With me behind the wheel, I feel like Iím in a good safe place and I donít think about those things. With these types of aircraft, it doesnít have to be the pilotís fault, it can be an unforeseen circumstance. I was awful nervous when I got in it. I wouldnít compare it to nervousness at the Nationals because I donít get nervous to get in a racecar.Ē
Schatz probably wonít be too nervous to hop in a plane again, either, after his day of maneuvers over Southern California. He experienced nearly everything possible in the jet except for ejecting, something Sgt. Harrypersaud said in his briefing that the Blue Angels never do on Wednesdays, which elicited a smile from the anxious Schatz.
ďI think everybody should be able to experience this,Ē Schatz said. ďItís not just a matter of how fast these planes go and the things that they do, itís just the way the pilots are able to deal with the conditions. Lt. Davis took me for a heck of a ride. Iíve got to thank him for the ride I got. We did things you canít ever do anything but tell people about. It was a great honor to be a part of it and Iím glad I got to experience it because itís a once in a lifetime opportunity.Ē
The Blue Angelsí mission is to enhance Navy and Marine Corps recruiting efforts and to represent the naval service to the United States, its elected leadership and foreign nations. The Blue Angels, celebrating their 60th anniversary this year, serve as positive role models and goodwill ambassadors for the U. S. Navy and Marine Corps. A Blue Angels flight demonstration exhibits choreographed refinements of skills possessed by all naval aviators. It includes the graceful aerobatic maneuvers of the four-plane Diamond Formation, in concert with the fast-paced, high-performance maneuvers of its two Solo Pilots. Finally, the team illustrates the pinnacle of precision flying, performing maneuvers locked as a unit in the renowned, six-jet Delta Formation.
The team is stationed at Forrest Sherman Field, Naval Air Station Pensacola, Fla., during the show season. However, the squadron spends January through March training pilots and new team members at Naval Air Facility El Centro, Calif. The Blue Angels are scheduled to fly nearly 68 air shows at 35 locations in the United States during the 2006 season. Last season brought out more than 17 million spectators. Since its inception in 1946, the Blue Angels have performed for more than 414 million fans
Schatz and the World of Outlaws race in the annual Cactus Classic Friday at Manzanita Speedway in Phoenix and before making the seriesí inaugural appearance Saturday at USA Race Park in Tucson, Ariz., with 4:30 p.m. autograph sessions featuring several Mean 15 racers preceding each event. The Outlaws will invade The Dirt Track at Las Vegas Motor Speedway for a two-day event March 9-10 in conjunction with the NASCAR Nextel Cup Series weekend. The Mean 15 racers will sign autographs at 2:30 p.m. on Friday, March 10, in the midway near the LVMS 1.5-mile oval.