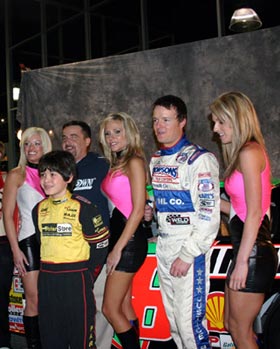 ParkerStore Driver Kyle Larson Competes
Sacramento, CA – ParkerStore Outlaw Sprint Kart driver Kyle Larson recently participated in the Tony Hunt Celebrity Race event to benefit the Make-A-Wish Foundation at the RPM – Race Place Motorsports - indoor karting facility.
Hunt, a four time USAC Western States Sprint Car champion, hosted the charity get together March 5th inside the ultra modern racing venue. Thirty-two teams were in competition, each captained by a celebrity driver. A few of the drivers on hand included former NEXTEL cup racer Jerry Nadeau, 3 time USAC Silver Crown champion Jimmy Sills, 2005 USAC Western States Sprint Car champion Cody Swanson, and Outlaw sprint car star Jason Meyers. Larson was a member of 600cc micro sprint driver Nicole Miller's team. Larson set the fastest time on two of the three tracks and had the best combined time of the 128 drivers competing.
Once again the highlight of the fourth annual event was that everyone had fun, while donating their time and cash to the children in need. The charity event raised a grand total of $15,000 and 100% of the proceeds will benefit the local chapter of the Make-A-Wish Foundation.
Race: March 5, 2005
Photos Courtesy of Jack Waterman
www.kylelarsonracing.com