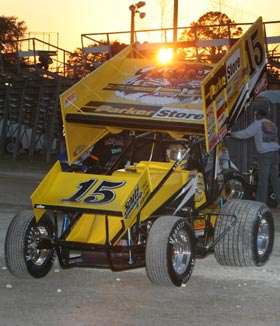 FARGO, ND - Donny Schatz left Las Vegas earlier this month with the points lead in the World of Outlaws (WoO) series and his ParkerStore team will return to action on Friday night at Batesville Speedway in Batesville, AR.
Schatz and the team will travel from their Fargo, ND race shop on Thursday to Arkansas for the first of two races this weekend. Following Friday's event in Batesville, they will travel to St. Louis to race at I-55 Raceway on Saturday night. The two events are the first since Schatz recorded first and second place finishes at the Dirt Track at Las Vegas Motor Speedway on March 9 and 10.
"We're all really excited to be heading to the track again," said the driver of the #15 ParkerStore J&J with Shaver power. "We started the year with a weekend in Florida and had a few weeks to until the next race. Then we had a couple of weekends of racing and had another break, but from here on out it's pretty much racing every weekend until the end of October."
In the first six WoO races, Schatz has one victory, three second place finishes and two fast qualifier awards.
"Our goal for the season is to win as many races as we can," continued Schatz. "We got our first one in Las Vegas and have been close a couple of other nights. This weekend we know what we're in for racing at a couple of fun places. Both tracks are small meaning there will be a lot of good racing going on and we're going to do our best to be up front each night."
Schatz will be trying to improve on last year's 14th place finish at Batesville in his first race at the 3/8-mile clay oval. He has 15 starts at the 1/3-mile high-banked I-55 Raceway and had his best finish of second when the Outlaws were there last July.
Both races will be air live on the internet at www.dirtvision.com. The Outdoor Channel will tape the action from I-55 and will air the night's action on Wednesday, April 5th.
(Photo by Dennis Krieger)