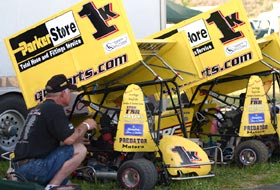 Chico, CA. After a month of inclement weather on the west coast, ParkerStore Outlaw Sprint Kart Driver Kyle Larson was finally able to start the outdoor season April 28th as he ventured to Southern Oregon Speedway in Medford, OR, where he garnered the win in the 500cc Open division and taking a second in the 250cc division. He also returned to California the next day to compete at Cycleland Speedway near Chico, California, where he posted a fourth place finish in the 500cc Open Intermediate division.
At Medford no qualifying was held as drivers drew for starting positions in the heats. Larson started sixth in the 250 heat and finished fourth. In the Open division Larson started from the pole and drove to a convincing half lap win that transferred him into the trophy dash. He started third in the dash and made an outside passing effort in the last turn that came up about two inches short at the checkered flag.
In the 250 main Larson started his ParkerStore /KTM/QRC Factory kart eighth on the grid and quickly moved to fourth as Jake Morgan led over Dylan Pemberton. Larson got into third on lap three and set his sights on Pemberton. He caught and passed Pemberton on the 12th lap. Morgan had extended his lead to a large margin but once in second Larson began to slowly whittle away at Morganís advantage. After a yellow on lap 19 Larson closed onto Morganís bumper for the restart. Morgan was not to be denied as he resisted Larsonís efforts and held on for this first ever 250 win.
The Open division feature found Larson starting next to polesitter Leslee Pierson on the front row. Pierson took the lead at the start but Larson was relentless in his attempts to find a way by in a crowd pleasing battle. The surprising Pierson succumbed on lap 2 as Larson powered by. The ParkerStore pilot survived several caution periods, as each time he would open a big advantage over the field, and drove to an impressive win.
At Cycleland Speedway Larson competed in the 500cc Open Intermediate division, where he is the defending track champion. Larson led 27 karts in qualifying with an 11.054 lap. He started sixth in the six kart-eight lap dash and finished fourth as Tyler Reddick captured the win. Larson started his Grandpa George powered kart eighth in the A-Main and made a big move in turn one, emerging in fifth exiting turn two. After a couple of laps dicing with Reddick, Larson moved into fourth. As Dillon Silverman led from the pole over Matthew Davis, Larson closed on Brian Southers. Both Southers and Larson narrowed the gap on Davis but there were no changes in the order to the finish as Silverman got the win on the hard to pass, rubber down racetrack.
At the end of the weekend Larson said, ďIt feels good to get out to the bigger tracks. Medford and Cycleland are two of my favorite tracks. Medford was a good as Iíve seen it and really fast. My Open kart had the perfect setup for the track. I was glad for Jake Morgan winning the 250 race there. Heís my good buddy and was my neighbor for several years. At Cycleland, with the day starting earlier than normal, we knew we would get a rubber down type racetrack. I got a good start and the kart felt really fast but as the track took more rubber the kart got tighter and I just couldnít get by Southers to move forward. Next week we should have the racetrack we are used to here and the racing will be much better.Ē
Race: April 29, 2006
Photos Courtesy of Jack Waterman