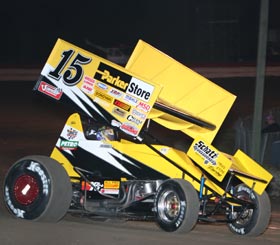 ELBRIDGE, NY (May 30) - Donny Schatz was beginning to wonder what he had to do to win his fifth World of Outlaws sprint car feature of the season. After finishes of second and third at Williams Grove Speedway during the weekend, Schatz established a new track record on Monday night at Orange County Fair Speedway in his #15 ParkerStore J&J and staged a terrific battle with Brooke Tatnell in the feature only to finish second.
On Tuesday night, Schatz got over the hump and returned to victory lane at Rolling Wheels Raceway out running his opponents on the slick, big half-mile in Western New York.
Schatz was the third fastest qualifier, finished second in his heat race and fourth in the dash. Eight laps into the feature, the Fargo, ND racer was on a charge passing Dean Jacobs and Craig Dollansky to move into the runner-up position. It was only a few laps later when Schatz seized control of the 25-lap feature by passing leader Daryn Pittman with an inside move heading into turn three. From there it was all Schatz on his way to his 55th career WoO feature win.
"It feels good to be back in victory lane again," said Schatz following the win. "My crew has done a tremendous job of giving me an unbelievably good race car night in and night out. We have big stretch of races this week and I'd like to get a few more."
Following his second career win at Rolling Wheels, the ParkerStore team will travel to Pittsburgh area for Wednesday night's race at Lernerville Speedway. The following night the team will make their first appearance at Wayne County Speedway in Orrville, Ohio before weekend races at Eldora Speedway (Rossburg, OH) and the Action Track (Terre Haute, IN).
"We put this team together to chase a championship," said Schatz, who continues to lead the series point standings. "When you start racing 10 times in 14 days, the teamwork really starts to show. My guys have really been working hard and I want to reward them by winning races. We've got four more races this week and we're going to put ourselves in position to win them all."
Since last Wednesday night's race at Charlotte, Schatz has been as hot as the weather finishing in the top five in all five races. The consistency has allowed him to build on his lead in the standings.
"Right now, its all about racing and winning as much as we can," continued Schatz. "The most important thing is continuing to improve and get better each night. Our qualifying program has really improved this year. I feel like lately that I haven't been doing as good of job as I should in the driver's seat. I'm going to try to fix that the rest of the week."
Keep up with all of the latest news and information on Donny Schatz by visiting www.donnyschatz.com and www.parker.com/racing