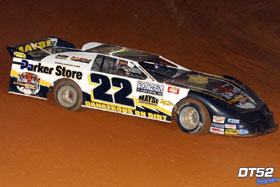 The Parker Store/Southern Fluidpower dirt late model team pulled double duty this past Memorial Day weekend, making a trip to Brasstown, North Carolina on Saturday for the Advance Auto Parts Thunder Series race at Tri County Speedway.
Starting 15th in the feature, Bobby Mayse began working his way through the field. On lap 10, Mayse was collected in a wreck involving two other cars causing extensive damage to the front end of the number 22 ParkerStore ride. After a brief trip to the pits to make repairs, Mayse returned to the field one lap down. Mayse continued on and finished the 50 lap feature event in 7th place. That 7th place finish also moved Mayse up to 7th in the Advance Auto Thunder Series season standings.
Following the Saturday trip to North Carolina, Mayse returned to Tennessee on Monday to race in a Memorial Day O'Reilly Auto Parts Southern All Star Series race at Cleveland Speedway. The race was initially set to run the week before, but was rescheduled for Monday due to inclement weather. Forty two cars were on hand to try and make the starting field of 24. Mayse started the field in the 24th position, and 50 laps later had nabbed another top ten finish, finishing 9th.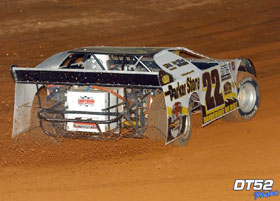 This weekend, the Parker Store crew will be just as busy. On Friday, June 2nd, the car will be in Asheville, North Carolina making an appearance at Asheville Hose and Equipment's open house.
The car will be on display from 10:00 am until 1:30 pm. This will be the second open house appearance the ParkerStore dirt late model team has done for Asheville Hose and Equipment President Mary Melton-Hale's ParkerStores.
The car will leave Asheville and head down to Blue Ridge, Georgia for a scheduled Advance Auto Thunder series race on Friday night. Following that Friday night race, Mayse and team will go to Chatsworth, Georgia on Saturday for another O'Reilly's Southern All Stars race.