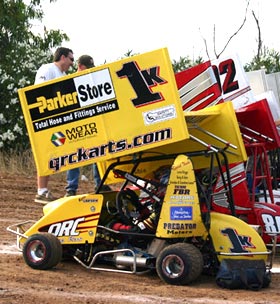 Chico, CA – ParkerStore Outlaw Sprint Kart driver Kyle Larson enjoyed another big night at Cycleland Speedway as he raced to his first win in the 500cc Open Intermediate division and finished second to 2005 Golden State Challenge Series and Silver Dollar Speedway Sprint Car Champion Sean Becker in the 500cc Open Division. In the process Larson took the point lead in the Open division and expanded his lead in the Open Intermediates. For the 13 year old from Elk Grove, California, to be leading both of the top divisions simultaneously is unprecedented in the hotly contested Northern California sprint karts.
Larson qualified fourth quick of the 33 Open Intermediates, placing him third in the lineup for the six kart eight lap trophy dash. He moved into first in turn two of lap two and went on to the victory. Larson lined his ParkerStore/Grandpa George Motors/ QRC Factory Kart fifth on the 22 kart A-main grid. At the drop of the green flag Larson went low down the front straight and emerged from turn two in second. By turn four he passed leader Alissa Geving and went on unchallenged to the lap 20 checkered.
In the Open Division Larson qualified second in a field of 31 and started fifth in the dash. He was able to advance to second at the finish behind David Tarter, which placed him sixth in the feature race. Polesitter Michael Hedwig lead at the start as Larson jumped into fourth on the first lap. By the second lap he had fallen to sixth but then began to march forward. On lap three he went by Daniel Becker into fifth and on lap six passed Tarter for fourth. Lap seven saw Larson pass Tyler Schaff for third and the halfway point found Larson moving by Helwig, who had lost the lead to S. Becker on lap four. Larson attempted to close ground on outlaw kart legend S. Becker but trailed at the finish by 2.5 seconds.
When asked to comment Larson stated, "I wish I could have had something for Sean. I love the challenge of racing against him. He's one of the best sprint car drivers in the country and also probably the best outlaw kart driver ever. It's only the second time I've gotten to race against him. Last time I had just passed him for the lead after a great battle and I lost my chain and unfortunately took him out with me. I did the best I could tonight and came up short to the best driver here. I'm real surprised though to be leading the points in the Open Division. When we decided to race in the division, the hope was just to be in the top ten because the talent is so tough and experienced. To be leading at this point, after being in sixth and 41 points out of the lead two races ago, is hard to believe."