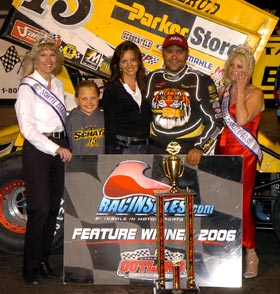 FARGO, ND - The pressure of performing well in front of grandstands packed with die hard sprint car fans is something Donny Schatz is very familiar with. The current World of Outlaws point's leader entered this weekend's World of Outlaws Duel in the Dakotas knowing this was his only chance to race in front of the fans at Red River Valley Speedway.
Since he first competed with Outlaws at the half-mile high banked dirt oval in located in his home state of North Dakota, Schatz had twice ended his evening in victory lane (the 2002 finale and 2003 prelim). This weekend, Schatz put his No. 15 ParkerStore J&J with Shaver power there two more times sweeping the World of Outlaws only 2006 visit.
"To get in victory lane here at home, there is nothing more exciting," explained an excited Schatz after leading all 30 laps of Saturday's "A" Feature program. "This team has worked awfully hard and I can't thank the people that have been supporting our program over the years enough. Our relationships with ParkerStore and Dick Bellerud Transport have been wonderful and to have people from both groups here makes it even more special. A lot of people have stood behind us for a lot of years and they're finally starting to reap the rewards. We just try to win everything we can and there's nothing better than coming home to Fargo and winning
Following Friday's thrilling run where Schatz chased down Joey Saldana with five laps remaining to pick up his first preliminary feature of the season, Schatz followed Tyler Walker past the checkered flag in Saturday's six-lap dash to earn the outside front row starting position.
When the green flag flew, the No. 15 ParkerStore/Dick Bellerud Transport/1st International Bank and Trust J&J motored into the lead as Schatz worked the top groove flawlessly during the early stages of the race. Two cautions slowed the action in the first ten laps, but what followed was Schatz using all parts of the race track to extend his lead to nearly a straightaway.
"We knew in the dash the track was going to come to us," continued Schatz, who raced a new J&J racecar to victory on consecutive nights. "Ricky (Warner) and the guys (Shane Bowers, Dillon Pendleton and James Bowers) gave me a great racecar all weekend. We've got a lot of races ahead of us, but when we only get to race here once you want to win everything you can. The fans here are tremendous and hopefully we can just keeping building on this momentum."
OUR SYMPATHIES
Sprint car racing lost a one of the hardest working promoters Fred Brownfield on Friday night.
"We raced today with heavy hearts," said Schatz following the win. "The loss of Fred Brownfield was a shock to the racing world. We send our sympathies to his family."