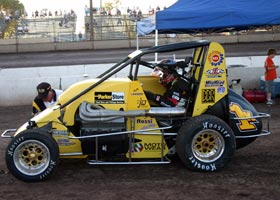 Phoenix, Arizona – Reigning 125cc and 500cc National Outlaw Sprint Kart Champion Kyle Larson competed in the first midget race of his career Saturday, June 17th at the legendary Manzanita Speedway and wowed onlookers as he drove through the pack from 18th starting like a veteran, ultimately claiming fifth in the car Jerry Coons, Jr. drove to the 2005 Belleville Nationals title.
Larson, the 13 year old from Elk Grove, California, was taking his maiden voyage with the Arizona Midget Racing Association (AMRA) as the group raced on the 1/3 mile track while sharing the bill with the Arizona Sprint Car Association (ASCA) non wing 360 sprint cars, who utilized the half mile track during the 40th annual running of the Hank Arnold Memorial.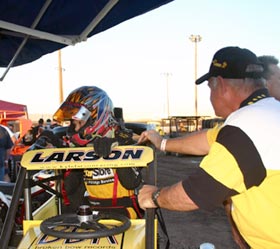 Larson, due to his rookie status, was relegated to starting last in his heat and main event. After finishing fourth in his heat Larson lined up on the outside of row nine in Clarence Reddick's Broken Bow Records/ParkerStore/Spike Chassis/Esslinger powered mount. After a couple of cautious laps the youngster began to move forward, nearly passing a car per lap. By lap seven Larson had moved to sixth and when fifth running Stevie Sussex experienced engine problems Larson found himself in the top five. He maintained the position to the lap 20 checkered flag as 15 year old Phoenix hotshoe Mike Colegrove drove to his first AMRA midget win.
Asked to comment about his first midget start, Larson said, "What a good way to start out. I have to give major credit to Clarence Reddick as he really believes in me. He gave me a car as good as any in the country to drive and with Arizona racing great Eric Wilkins assisting us with setup and track advice, I felt real comfortable in racing conditions. I also think the experience in the outlaw karts helped to prepare me for this as the 500cc karts are about equal to a midget power to weight wise, and I don't think there could be a better training ground for a dirt track racer. I got a lot of support from my outlaw kart friends and family and would like to thank Broken Bow Records, ParkerStore, MotoWear International, JW Web Design, Rossi Auto Body, A1A Performance Muffler, SGMC Landscaping, NorthStar Concrete Pumping, Mophead Graphix, Safety Solutions and especially Clarence & Geri Reddick. I want to also thank Steve Stroud from ILEX/ParkerStore for introducing me to a lot of people at the track. I felt very relaxed being there."
Race: June 17, 2006
Photos Courtesy of Jack Waterman
www.kylelarsonracing.com