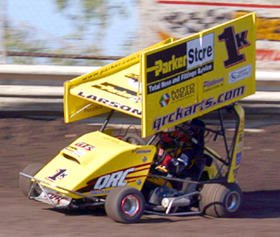 Chico, CA – ParkerStore Outlaw Sprint Kart driver Kyle Larson drove to his second straight feature win in the 500cc Open Division as action returned to Cycleland Speedway after a holiday break for the Fourth of July. Larson also competed in the 500cc Open Intermediate Division and came away with a third place finish.
Larson qualified seventh quick of 25 entries in the Open Division, which gave Larson the pole position of the first eight lap heat race. Larson led every lap of the event and earned another pole for the A-Main event. He was able to also lead all 20 laps of the A-Main unchallenged and garner his third Open division feature win of the season.
In the Open Intermediates Larson was third quick of the 38 karts assembled. He lined up fourth in the six kart eight lap trophy dash and advanced one position to third at the finish. Larson started his ParkerStore/Grandpa George Motors/QRC Factory kart seventh on the feature grid and jumped to fourth on the first lap. On the fourth lap a flying Brian Southers dropped Larson to fifth. On lap six Larson got back into fourth as he went by pole starter Josh Keheley. As leader Colby Copeland fought to hold off the advancing Southers, Larson was trying to chase down third place Alissa Geving. Southers got by Copeland on lap 14 and, finally on lap 18, Larson got by Geving with a pass in turn four. The last two laps saw no change in the order as Southers won for the first time in 2006 at Cycleland.
Asked to comment at the conclusion of events Larson said, "Tonight was a difficult track to race on. With the heat today the track was slick all over and there wasn't really much to grab a hold of on the top or bottom. I was fortunate to start on the pole of the Open Division main, pretty much stay out of trouble with lapped traffic, and win. In the Open Intermediate A-main the track was even slicker. Southers had a perfect setup for the track as he flew by me in the middle of the racetrack and he seemed to be the only one fast anywhere on the track. Congratulations to him and I'll be satisfied with my third place finish tonight."
Race: July 8, 2006
Photos Courtesy of Jack Waterman
www.kylelarsonracing.com