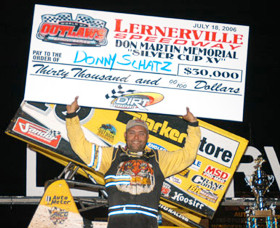 SARVER, PA (July 18) - Donny Schatz was extremely disappointed on Saturday night after finishing second in the 23rd annual King's Royal presented by Crown Royal. Tonight, the current World of Outlaws points leader can empathize with Ed Lynch, Jr. who finished second in the Don Martin Memorial Silver Cup XV at Lernerville Speedway.
Schatz got the spot he wanted on this night claiming his first Silver Cup crown by making another thrilling run from the sixth starting position in his No. 15 ParkerStore J&J with Shaver power. He made the winning move around race leader Ed Lynch, Jr. in turns one and two on the 34th lap of the 40-lap race and then drove away during the final five and half laps to pick up the $30,000 first prize.
"I am so happy to be here tonight," said Schatz, following his eighth "A" Feature victory of 2006. "I have to thank the World of Outlaws, DIRT Motorsports and Lernerville Speedway for putting on this event. The Don Martin Memorial is a really big sprint car race, and we've been wanting this one for quite some time. I'm so thrilled we got the job done tonight and I hope the fans really enjoyed it too."
Since his rookie season in 1997, Schatz has been eyeing the coveted Silver Cup title and even though he had some good runs in the past was still looking for his first top five finish in the event. The difference tonight was the same type of consistency he and his team have shown all season.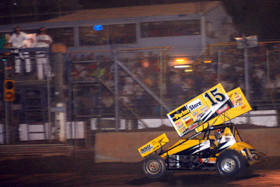 The ParkerStore crew (crew chief Ricky Warner, Shane Bowers and James Zartman) put a fast J&J underneath Schatz from the start as he earned his fifth fast qualifier award before coming home fourth in the first heat race. After finishing sixth in the six-lap dash, he would start sixth in the feature, the same position he started from on Saturday night.
Schatz took off at the start and began working his way one by one to the leader. He found himself in second when a lap 14 caution slowed the action. After a couple more cautions and one red flag, Schatz was determined to take the lead. Both he and Lynch worked the tenuous cushion coming out of turn two, but Schatz found other parts of the track where he worked better while racing in second. He made his winning move with less than six laps remaining and blitzed through traffic the rest of the way to pick up the win.
"The race car was working so good tonight that I had to calm myself down a little bit and let the tires catch up," explained Schatz. "Once I made that adjustment we were fine. Ed (Lynch) drove a great race and honestly, sometimes it's better to be running second because you see what the leader is doing and find a better way. It's like being in the cat bird seating just waiting to make your move."
With a huge win under his belt, the Fargo, ND racer and his ParkerStore team now will turn their focus towards the Cleveland Brothers Summer Nationals at Williams Grove Speedway, which begin on Thursday.
"I felt like we should have won on Saturday night and I told my team that I was tired of finishing second," continued Schatz, who has nine second place finishes this year. Tuesday's win marked the sixth time this year that he has won a race the night following a runner-up finish. "I knew coming back to Lernerville would be good for us. We had such a good run here earlier this year and if we started anywhere near the front that we would have a good chance."
"It's a long season out here, but right now there is a lot of money up for grabs. We want to get greedy and take as much of it as we can. I've said all year that I'm focused on winning as many races as I can and not worrying about anything else. We've got three nights of racing coming up at Williams Grove before we go to New York, and I feel like we should have already won at 'the Grove' this year too. That just motivates us more to try and get back to victory lane again."
Schatz and the ParkerStore crew will travel to Carlisle (Penn.) following the Silver Cup victory. It will be a homecoming of sorts for the crew as all three members (Warner, Bowers and Zartman) hail from area with each cutting their teeth in sprint car racing in the tough Central Pennsylvania circuit.
Williams Grove has become short of home track for Schatz also as he has taken to the place after winning eight times at the legendary half-mile oval in his career. In 2003, he won the Summer Nationals finale after winning the second preliminary feature and also had an incredible night in July 2001 when he won two WoO feature events at the track. Schatz is also the two-time defending National Open champion.
Keep up with all the latest news on Donny Schatz by logging onto www.donnyschatz.com and www.parker.com/racing.