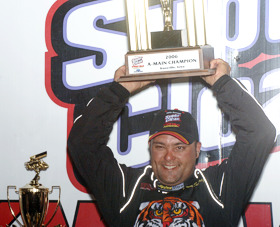 KNOXVILLE, IA - Donny Schatz couldn't quite believe that he had just won the biggest race in sprint car racing on Saturday night. He was waiting for his alarm to go off, because he thought he must have been dreaming.
This was a dream alright, but it was very real as the World of Outlaws points leader raced his No. 15 ParkerStore J&J with Shaver power to victory in the 46th Annual Super Clean Knoxville Nationals. The competition may be having nightmares about how fast Schatz was all week overcoming years of frustration from being close to winning yet coming up one spot short four times.
"It hasnít really hit me,Ē said Schatz, following the biggest win of his career. ďIím as excited as Iíve ever been in my life. This is one of the defining moments of my life. It honestly has not hit me yet. When you put the helmet on itís time block everything else out and I feel like I still have to take the helmet off and let the emotions go. Iím normally an emotional person and I tried to block out all the emotions this weekend. This is it. It doesnít get any bigger than this. It doesnít get any better."
The ParkerStore team was one of the favorites heading into this year's Nationals and all week showed the consistency that has them on top of the Outlaws standings. After leading the qualifying points, Schatz earned the pole position with a strong run in Friday's "A" Scramble, which served as a test session for Saturday's finale.
In the 30-lap feature event, Schatz and fellow front row starter Joey Saldana each took turns grabbing the lead in two attempts at starting the race, before the race finally went green on the third try. Saldana took the early lead, but Schatz was his shadow as the two swapped lines in each corner making for some great racing. Schatz had the lead on lap four, but Saldana regained it the next time by and carried the lead into lapped traffic.
Schatz is a master in lapped traffic and he set his sights on Saldana and continued to move closer and closer. With a move late in lap 12, the Fargo, ND racer took command and began pulling away from the field. A yellow flag on lap 18 bunched the field before a red flag stopped the action two laps later.
The ParkerStore crew led by Ricky Warner made no changes to the No. 15 car and let the driver know he was the best out there and to keep doing what he was for ten more laps and he'd have the coveted Knoxville crown.
When the race resumed, Schatz drove away from Saldana and built a commanding lead taking the win by a huge margin.
"This is such a big deal for all of us," continued Schatz. "I wanted to win this race for a long time and had to settle for second too many times. We work hard as a team and hard work is what won this race tonight. I want to thank everyone out there that stuck with me through the last few Nationals, because this is what its all about."
"Joey ran a great race and we've had some good battles all year. I think the two of us racing one another for wins like this is only making both of us better. He got me at the King's Royal and I got him at the Knoxville Nationals. Now it's time to head west and see if we can win more races."
Schatz and his ParkerStore team will return to action on Thursday night at Black Hills Speedway in Rapid City, SD. Two nights later, Schatz will return to the track where he first got started racing in Minot, ND at Nodak Speedway.
Keep up with all the latest news on Donny Schatz by visiting www.donnyschatz.com and www.parker.com/racing.