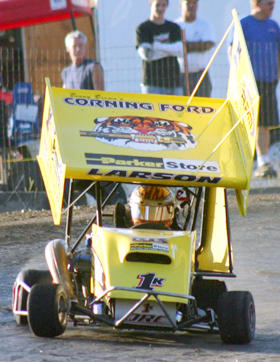 Chico, CA – ParkerStore Outlaw Sprint Kart driver Kyle Larson ventured north of the California border to race at Southern Oregon Speedway in Medford, Oregon before returning the next day for point race number 14 at Cycleland Speedway near Chico. Larson raced in the 500cc Open and Open Intermediate divisions at both race tracks and garnered finishes between second and seventh in the four A-mains contested.
At Southern Oregon Larson qualified fast time in the 23 kart Open Division and second of the 11 karts in the Open Intermediates. He swept both heat races and also won the Open Intermediate trophy dash before finishing 3rd in the Open dash. On a very narrow rubberdown racetrack hindered by high temperatures, Larson started third in the Open Intermediate main. While running third on a lap four restart the second place kart of Leslee Pierson bogged causing fourth running Kenny Allen to get into Larson, causing both to stall. Larson retarted at the back and was able to drive back to fourth at the finish as Stephanie Rotarius drove to the win.
Larson started fourth in the Open Main and fell into line there during the early stages of the race. He drove by David Hibbard on lap 3 and set out for second place Jake Park. He disposed of Park on lap 14 and then began to close a straightaway gap on leader Pierson. When the lap 20 checkered appeared Larson had closed to a kart length behind Pierson but the effort fell short and the ParkerStore/Grandpa George Motors/QRC Factory Kart settled for second.
The next evening at Cycleland Larson swept fast time over 29 Open Intermediates and 23 Open division drivers. He started sixth in both eight lap dashes and won the Open Intermediate event and finished third in the Opens. Larson started fifth in the 22 kart Open Intermediate feature and advanced to third at the finish, while Alissa Geving, daughter of former Sprint Car racer Gary Geving, drove to her first ever win at Cycleland Speedway. Larson started eighth in the Open division main and had advanced to as high as fifth by the mid point of the race. But he eventually fell back to seventh at the finish as Sprint Car Champion Sean Becker raced to his second consecutive win. Larson's finish was good enough to close ground on point leader Tyler Wolf, slicing a 13 point gap to six with four point races to go.
At the conclusion of Cycleland's races Larson said" I'm just fortunate that I was able to be here tonight. We had our tow vehicle break down coming back from Oregon. I was able to toss my kart and a few things I needed into Keith Bloom's trailer and get to the racetrack while my parents waited to get another truck from my sponsor Benny Brown's Corning Ford. With the help of Benny and Clarence Reddick my parents were able to get to the track just as I was getting ready to qualify. I can't thank the Bloom's, the Reddick's and Benny Brown enough for helping us get to the track. Sean Sheppard got my kart set up perfectly and I set fast time in both divisions. We missed the setup a little bit in the Open main but got the kart much better for the Open Intermediate race. My good friend Alissa ran a really strong race and I'm glad to see her get her first 500cc win. She has improved so much over the last year. Just a couple of weeks ago she was very sick and in the hospital for a few days and she really deserves to have this win."
Races: August 18 & 19, 2006
Photos Courtesy of Jack Waterman
www.kylelarsonracing.com