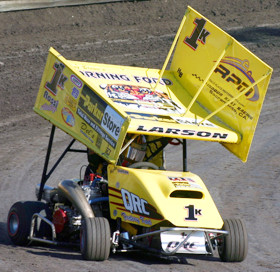 Takes over Point Lead
Chico, CA – ParkerStore Outlaw Sprint Kart driver Kyle Larson swept both Main Events in the 500cc divisions at Cycleland Speedway Saturday night. The wins in the Open and Open Intermediate divisions are thought to be the first time a driver has been able to score the double dip the two top divisions. In the process Larson was able to retake the Open Division point lead he lost in June, when he missed a race so he could compete in a midget for the first time at Manzanita Speedway in Phoenix, Arizona, claiming an impressive fifth place finish there.
Larson qualified second of the 23 karts in the Open Division and lined up fifth in the six kart eight lap trophy dash. He advanced to second at the finish and earned the sixth starting spot in the A-Main. After six laps of the main the ParkerStore/Grandpa George Motors/QRC Factory Kart driver found himself still mired in his original starting position. On lap seven the young charger began to advance as he moved into fifth. By lap 10 he cracked the top four and set out for leader Emalee Ramirez and the Becker brothers, Sean and Daniel. Larson disposed of D. Becker on lap 13 and began to close on Outlaw Kart Legend and Sprint Car Champion S. Becker, completing the pass a lap later. On the 17th lap Larson dove underneath Ramirez in turn three and led the last three laps to score his fourth win in the Opens this Cycleland Speedway season.
In the 28 kart Open Intermediate field Larson qualified third and started fourth in the dash. He placed third to gain the seventh starting position in the feature race. By lap two Larson had already jumped to third to trail polesitter Thomas Bruckenstein and dash winner Dillon Silverman. On lap six the top two positions swapped in the three way dog fight. Two laps later Larson got by Bruckenstein and engaged Silverman for the next dozen laps, finally getting by with a high side pass in turn four to lead lap 19, as the yellow flag appeared. As Larson restarted in the high groove Silverman dove to the bottom of turn one and led going into turn three. Larson rose to the occasion and powered around Silverman in turn four to claim his fourth Open Intermediate win of the season.
At the end of the night Larson commented "This feels real good. I haven't had a night like this in quite a while. The track was real racy tonight with a good bottom and top. In the Open Main, it started out and I wasn't going anywhere. But then the guys in front of me started using other lines and it just opened the door for me to start moving forward. It felt good to go by Sean Becker, who won the last two races here, but I still had to get Emalee Ramirez, who was real fast also. I finally got the point lead back from Tyler Wolf and I'm going to do all I can to hold it over the last three point races. In the Open Intermediate race I got to third so soon that I kind of thought I would get the lead pretty quickly, but Dillon was real fast and I had to give it everything I had to finally get the lead. With the last lap restart he almost got me back but I was able to pull out the win out of turn four. I want to say that I couldn't have a successful night like this without the great sponsors that support me, ParkerStore, QRC Factory Karts, Safety Solutions, JW Web Design, MotoWear, Inc., Corning Ford, Broken Bow Records, RPM Indoor Kart Racing, WYNN'S, Earl's Indy, Platinum Powercoating, Rossi Auto Body, Hampton Inn-Red Bluff, CA, Care-Free Pools, BTS Racing, HOD, and Del's Machine Shop."
Race: August 26, 2006
Photos Courtesy of Jack Waterman
www.kylelarsonracing.com