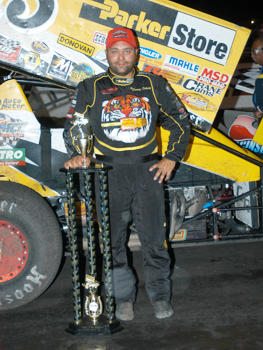 SCHATZ CHARGES PARKERSTORE J&J FROM 15TH TO VICTORY AT EAGLE
EAGLE, NE - (Sept. 15) - It was all in the number 15 on Friday night during the World of Outlaws 1/3-Mile Nationals at Eagle Raceway just east of Lincoln, NE. Donny Schatz made an incredible charge in his ParkerStore sponsored No. 15 J&J racing from the 15th starting spot to pick up his 15th WoO win (13th "A" plus two prelims) of 2006 on the 15th of September.
"That was as much fun as I have had all year," said Schatz after leading the final two laps en route to victory. "This feels awesome to be back in victory lane. My guys worked awful hard to give me a racecar this good so the we could charge from as far as we had to come. I have to thank the fans for coming out and I hope everyone enjoyed the show."
A show it was as the current World of Outlaws leader methodically worked his way into contention in the 40-lap feature event. Brooke Tatnell led the race from the start and two late cautions allowed Schatz to gain track position setting up the final four lap shootout.
When the race resumed on lap 37, Schatz pulled even with Tatnell and took the lead heading through turns one and two for the lead on the next lap. With Schatz running the low line, Tatnell tried everything he could charging around the top, but Schatz was up to the challenge and crossed under the checkered flag first.
"What a great race, man I'm getting old to be trying to come from the back like that," continued Schatz, who is enjoying a career season during his tenth campaign with the Outlaws. "We needed this. It had a been a few races since we've won and after everything that happened last weekend...this just feels really good."
The victory for Schatz was his third career 1/3-Mile Nationals triumph continuing his late season surges that also saw him take the race in 2003, and sweep the two-night program in 2004.
Schatz was looking for some revenge at Eagle as he felt like he let a victory get away from him in June during the Eagle Nationals.
"We should have won here in June, but we had a little problem with our right rear tire," continued Schatz. "I feel like I've got the best crew out here and these kind of nights really help keep everyone hungry. Ricky Warner, Shane Bowers and James Zartman have been doing a great job. It's great to be back in the Midwest and now it's off to Jackson (MN) for hopefully another good night of racing."
The ParkerStore team will travel Jackson, MN for Saturday night's event. Last year, Schatz and Daryn Pittman staged a terrific duel that went down to the final lap with Pittman getting the victory.
Keep up with all the latest news and information on Donny Schatz by visiting www.donnyschatz.com and www.parker.com/racing