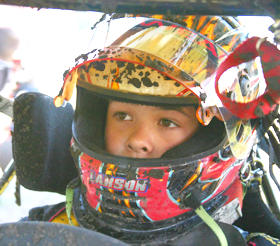 Chico, CA – After a three week break from point racing as the World of Outlaws Sprint Cars rolled through Northern California, Cycleland Speedway held round number 16 of 18. ParkerStore Outlaw Kart Driver Kyle Larson enjoyed another good night as he increased his point lead in the top 500cc Open Division and drastically cut the deficit in the 500cc Open Intermediate with third and second place finishes in the respective feature races.
In the Open division Larson qualified fourth of the 25 karts assembled and started third in the six kart eight lap trophy dash. After an exciting battle with pole starter Camron Mendes, Larson emerged with a hard fought win which gave him the fifth starting spot in the feature race. The Becker brothers, Daniel and Sean, started on the front row with Daniel taking the initial lead as Larson powered into third. On lap seven S. Becker took the lead and held it through a lap 12 yellow flag. As the race restarted D. Becker got into the back of his brother, causing both to spin while Larson inherited the lead. As Larson lead in the top groove, behind him the pack began to use the bottom groove on the rapidly changing track, with the track quickly turning to a rubberdown surface. As the race wound down second running Michael Helwig surprised Larson with a pass in turn two of lap 19. As Larson attempted to fight back Tyler Wolf also got underneath on the last lap, nipping Larson by a kart length at the finish. Although Wolf finished ahead of Larson, the ParkerStore driver earned two more points than Wolf on the night to lead by 15 with two point races remaining.
Larson qualified sixth of 27 in the Open Intermediates and started on the pole for the dash. Outside front row starter Colby Copeland got the jump at the start to lead flag to flag over Larson. The ParkerStore/Grandpa George Motors/QRC Factory Kart was to start sixth in the A-main, however, fourth starting Alissa Geving needed mechanical assistance before lining up at the rear of the field, allowing Larson to move up a row. As the green flag unfurled Larson jumped into second behind polesitter Thomas Bruckenstein, which is where the lead duo remained for the entire distance. Although Larson never seriously challenged for the lead on the one groove track, the second place finish allowed him the opportunity to cut a 77 point deficit to 35, as point leader Mason Moore was involved in a lap nine crash that eliminated him, resulting in a 22nd place finish.
Asked for his thoughts as action concluded Larson said, "I'm pretty disappointed in not winning the Open main tonight, but that was an example of a time when it was best to not be the leader. The top of the track had been real good all night long for me and I thought things were under control. But, come to find out, the bottom was taking rubber quickly and by the time Helwig got by me it was too late to counter. I can't be too unhappy though because overall I had a real good night, with my point lead in the Opens growing and my deficit in the Open Intermediates being cut to a point to where there is at least some hope to still win that division also. I had 20th and 21st place finishes earlier in the season which knocked me back, so maybe things can even out for me and we can make a run at Mason over the next two weeks."
Race: September 16, 2006
Photos Courtesy of Jack Waterman
www.kylelarsonracing.com