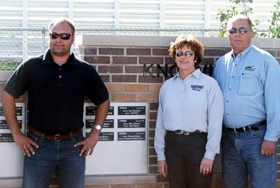 Enshrined on Wall of Champions
Knoxville, Iowa - Oct. 9, 2006 - By: Tony Veneziano, WoO Sprint Series PR Director
Before taking to the famed Knoxville Raceway for the first time since winning the 46th Annual Knoxville Nationals on August 12, Donny Schatz along with his parents/car owners Diane and Danny Schatz, were honored by the National Sprint Car Hall of Fame & Museum on Saturday afternoon, as the 2006 champions of the event.
The Schatz's had their name emblazoned on the Knoxville Nationals Wall of Champions which sits outside of the NSCHoF, along with all the other past winners and car owners of the most prestigious race in sprint car racing.
Knoxville Raceway announcer Tony Bokhoven emceed the event on an unseasonably warm fall day, while Tom Schmeh, the Executive Director of the National Sprint Car Hall of Fame & Museum unveiled the newest plaque on the Wall of Champions.
Saturday afternoon provided the perfect moment for Schatz to reflect on what it truly means to be a Knoxville Nationals titlist. The native of Fargo, North Dakota feels a great sense of honor and pride to have his name listed alongside past and present legends of the sport.
"It's great to be able to put my name there," said the Knoxville Nationals winner. "We really didn't get to do much celebrating Saturday night (August 12 when he won). "It was a big night and we are just trying to get back down off of 'Cloud 9.' Getting my name on the wall is pretty exciting. There are a lot of great names up there. Mine is up there now, and it is not coming off. That is great."
The crowd gathered for the ceremony was treated to a history making event, due to the World of Outlaws Sprint Series racing at the famed track that evening, an event that Schatz eventually won for his 15th A-Feature win of the year with the series.
"This is the first year we have brought back the winner of the Knoxville Nationals in the same year he won it, to unveil the plaque," said Schmeh. "It's really exciting. We are really proud, and it is pretty neat for Donny."
For Donny, the day was even more special with his parents/car owner's on-hand to take part in the festivities, knowing how much time and effort they put into the team on a daily basis.
"Anytime you can do it as a family effort, it is more satisfying," said the 1997 World of Outlaws Rookie of the Year. "It doesn't feel like it is such a job. It's always been a family effort for us. We do this because we have fun at it, as well it being a big part of our life. It's also how I make a living. It's an honor to have your family involved. It's self-satisfaction as well having your family involved. It's more fun, and I'm happy it's that way. Hopefully, we can keep continue it that way into the future."
Smiling from ear to ear, Diane Schatz stood with her son and husband as the flash bulbs went off and the video cameras rolled, enjoying the priceless moment.
"This is awesome," said Donny's mother Diane. "Getting the Knoxville win was great. Having the name associated with the Hall of Fame and Wall of Champions is just great."
Having been around sprint car racing for as long as he can remember, Danny Schatz has strived to help his son win the Knoxville Nationals. He fondly recalls pacing in the pit area during this year's 30-lap event, as he anxiously watched his son lead 19 laps on the way to his historic win.
"This is the opportunity that we have been looking for, for many years to get the Knoxville Nationals win," said Donny's father Danny. "It was great how we accomplished this. The four second place finishes were great accomplishments also. Every time you finish second at a place like Knoxville, you are in a great position, just not in the best position. This year we were in that best position."
While the 2007 Knoxville Nationals is still over 10 months away, scheduled for August 9-12, the reigning champion of the event is already looking forward to it and counting down the days. Schatz will have two opportunities to tune-up for the legendary event as the World of Outlaws Sprint Series will visit the storied half-mile twice in 2007. First on April 28 and then on June 16.
"This is the coveted race that everybody wants to win," said Donny. "We're just excited to have done it. I have confidence when we go around here now. I'm hoping that we can come back and it will be a no-pressure deal and try to repeat. We'll go out and do the best we can, and hopefully come out of there with another one."
After being the bridesmaid four times, Schatz knows that he will now forever be referred to as a Knoxville Nationals winner. This too brings a great send of pride and prestige to the focused and determined driver.
"There will never be anybody saying, that second best was the best you could do," said Donny. "We got it taken care of, and now we can try to come back and get some more."
Fresh off his 15th win of the season on Saturday night at Knoxville, Schatz and his team led by crew chief Ricky Warner, along with Shane Bowers and James Zartman will return to action this Saturday night October 14 at Wilmot (Wisc.) Speedway, as they continue to chase their first World of Outlaws Sprint Series title.