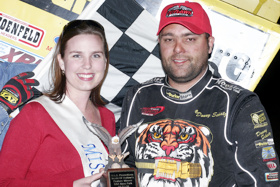 TUCSON, AZ (October 22) - Donny Schatz is a driven individual and when he puts his mind to something the sky is the limit. On Saturday night, the current World of Outlaws points leader wanted to score a clean sweep in honor of the late Ted Johnson. The Fargo, ND racer and his ParkerStore team nearly pulled it off at USA Race Park in Tucson as Schatz set quick time, won his heat race and the feature event, only finishing second in the dash event.
"It was a pretty emotional night and I really wanted a clean sweep for Ted," said Schatz, following his series leading 16th "A" feature win. "The bottom line for tonight was it still was about racing. Even with our minds occupied with thoughts for the Johnson family, I knew we had to go out and do something special."
The ParkerStore No. 15 J&J with Shaver power was fast all night as he set the pace in qualifying, won the first heat race and led all 30 laps of the feature event.
The dominating night helped him add to his totals across the board including pushing his lead in the point standings to 330 points, his number of Fast Qualifier Awards to eight, and "A" feature laps led to 419.
"The car felt good and I was just trying to get to where we were going to run on the race track," continued Schatz, who finished second on Friday night at Manzanita Speedway in Phoenix. "You can only do that by getting in the catbird's seat, and we never really got in the catbird seat. We just had to move around and get where we could on the race track and see what felt best. We struggled a little to get good everywhere. I just had to be patient and stay on the bottom in the rubber."
The team will now travel to Las Vegas for the final weekend of action in the 2006 campaign. They return to the Dirt Track at Las Vegas Motor Speedway where Schatz has been very good. He won the WoO finale at the half-mile track in 1999 and 2004 as well as victories in March of 2005 and 2006. Schatz simply needs to enter the final two races next weekend in Las Vegas to claim the 2006 championship.
"All in all, it was a good night, and it finishes off a good year. It was heart warming to go out this way tonight and to have it in his honor."
About Our Sponsors
Schatz and the ParkerStore team couldn't compete with the World of Outlaws without corporate partnerships and product sponsors. ParkerStore, industry specific stores that stock a full inventory of Parker fluid connector products, has been an integral part of DSM since 1999. The Parker name is recognized worldwide as leader in fluid connector technology and customer service. Bellerud Transport has been a constant transportation source for retail supermarket chains since 1955 and associated with Donny since he began racing with the Outlaws in 1997. Petro is the nation's premier travel plaza chain with facilities designed to meet the needs of today's professional drivers. With locations from coast to coast and border to border, Petro Stopping Centers set the standard for all travel plazas.
Donny Schatz Motorsports has a winning combination of parts and components. Our relationships are important to continue competing at the highest level of sprint car racing and we are pleased to work with: Afco Shocks, All-Pro Cylinder Heads, Astro Titanium, AutoMeter, B&R Motorsports Ignitioneering, Crane Cams, Donovan, Engler Performance, FelPro, Fuel Safe, Hoosier Racing Tires, K&N Filters, KSE, Kwik Change, J&J Auto Racing, Mahle Motorsports, MSD Ignition , Rod End Supply, Schoenfeld Headers, Shaver Racing Engines, Ultrashield, Vortex Wings, Waterman, Winters Performance, XRP.
Keep up with all the latest news and information on Donny Schatz by
visiting www.donnyschatz.com and www.parker.com/racing .