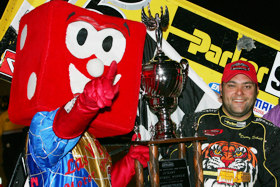 FARGO, ND (November 5) - The celebration continued throughout the week for Donny Schatz and his ParkerStore sponsored World of Outlaws team following their first championship season. With last weekend's races concluding the 2006 campaign, Schatz put an exclamation point on a career-best season by racing his way to victory in the final night of action at the Dirt Track at Las Vegas Motor Speedway last Saturday.
It marked the third time in his career that he concluded a season with a victory behind the wheel of his No. 15 ParkerStore sponsored J&J with Shaver power and also ended the 2006 season the same way it started for the team...in victory lane.
"We had a phenomenal year and all of the hard work paid off," said the Fargo, ND racer. "To be a World of Outlaws driver for 10 years is quite an accomplishment, but to be a champion is like a dream come true. We've spent a lot of years trying to reach this point and this year we saw a lot of things that proved we were the best team out here."
Schatz reversed his usual slow starts by being consistent early in the season and winning races in March that helped establish the ParkerStore No. 15 J&J with Shaver power as the team to beat. With his 17 "A" feature victories, including three of the final five nights of the season, Schatz ended the season with a 364 point advantage. He led the series in many other statistical categories including: top-five finishes (42), fast-times (9), track records (2), laps led (441) and dash wins (8, tied with Craig Dollansky).
"Don has worked really hard to get where he has," said Danny Schatz, father and car owner of the 2006 champion. "It's great to see all of his dedication pay off. I'm sure there were some days when he wondered if he'd ever reach his goals, but Diane and I have sure enjoyed every step of the way."
All season Schatz focused on winning more races than any other competitor. In the end, it was all those victories that sealed the deal. Even the nights he didn't win helped his chase for the championship. He had 14 second place finishes and the impressive stat is that nine times he followed those second place finishes by winning the next race.
During last Sunday's championship banquet, the 29 year-old driver received many accolades and his team shared in the spotlight.
SPONSOR SUPPORT
The season finale was a culmination of a terrific season and long-time Schatz Motorsports sponsor, Parker Hannifin Corporation, helped celebrate. Members of Parker, including Brad Fischer, Matthew Gray, Margaret Matthews and Brett Fortier, distributed "clap sticks" printed with "Donny Schatz 2006 WoO Champion" to fans attending the season finale. Fischer kicked off the banquet festivities by announcing a sponsorship agreement for 2007 with the team, awarding Schatz a vintage hunting rifle and gave each member of the ParkerStore team a leather jacket.
"It was great having so many people from Parker out in Las Vegas to celebrate with us," said Schatz. "Seeing the Parker clap sticks in the crowd and all the people from Parker on hand was great. John Strand, from Parker's Minneapolis office, was also there and he's the guy that helped get this sponsorship started way back in 1999."
Dick Bellerud and his wife Marie were also in attendance during the final weekend. Bellerud Transport has been a sponsor of the team since 1997 when Donny received the WoO Rookie of the Year Award. Dick as usual was all smiles during the festivities.
The ParkerStore No. 15 J&J utilized a winning combination of parts and components to claim this year's crown. Our relationships are important to continue competing at the highest level of sprint car racing and we are earned this championship with: Afco Shocks, All-Pro Cylinder Heads, Astro Titanium, AutoMeter, B&R Motorsports Ignitioneering, Crane Cams, Donovan, Engler Performance, FelPro, Fuel Safe, Hoosier Racing Tires, K&N Filters, KSE, Kwik Change, J&J Auto Racing, Mahle Motorsports, MSD Ignition , Rod End Supply, Schoenfeld Headers, Shaver Racing Engines, Ultrashield, Vortex Wings, Waterman, Winters Performance, XRP.
BIG WINS
After winning eight races in his first nine starts during his Australian tour, Schatz hoped to put up a big number of wins in 2006. Prior to the season opener in Florida, he talked about having a "Doug Wolfgang type" season.
Even though the 30 win goal wasn't reached, he added some impressive wins to his resume. In June, he swept a pair of races at his home track, Red River Valley Speedway in Fargo. Three nights after coming up one spot short in the King's Royal, he charged to win his first Don Martin Memorial Silver Cup at Lernerville Speedway picking up the $30,000 prize.
The display he put on at the 46th annual Super Clean Knoxville Nationals was a master piece. Coming into sprint car racing's biggest event, Schatz had four runner-up finishes in the previous six Nationals. He battled to a second place finish in the opening night and led all drivers in qualifying points following a thrilling charge from 1oth to second in Friday's "A" Scramble. In Saturday's 30-lap finale, he started from the pole and exchanged the lead early with Joey Saldana before taking command for good and driving off to score the biggest win of his career.
The wins came early and often as Schatz spread his 19 overall WoO wins throughout the season winning two in March, one in April, two in May, three in June, three in July, three in August, two in September and three in October. The longest time between wins came early in the season between winning at I-55 Raceway near St. Louis on April 1 and Grandview Speedway in Pennsylvania on May 16 (45 days/9 races).
CHAMPIONSHIP HARDWARE
With Schatz Motorsports collecting the $200,000 prize money for earning the WoO title, it added to a career-best race earnings mark of $372,415. That figure doesn't include over $160,000 he took home for his impressive week at the Knoxville Nationals.
The remarkable season led to other awards for the team and its manufacturers. Ricky Warner was named "Snap-On" Crew Chief of the year. The Carlisle, PA native was honored to be recognized by his peers as the best in the business.
"There are lot of people that deserve this award and I'm honored to receive it," said Warner. "I'll start by thanking Ronnie Shaver, who helped me learn about motor maintenance and really help get my feet wet. Karl Kinser was a big influence on me. I have to thank the Schatz family for bringing me on board. Donny is an unbelievable driver and to be able to work with him and the guys that worked along side me, Shane Bowers and James Zartman, made this year a ton of fun. I also want to recognize every person in this room that at some point this season picked up a wrench and helped get these drivers on the track. This a tremendous honor and I'm excited to join an elite group of guys that won it before me."
Shaver Specialties earned Engine Manufacturer of the Year and J&J Auto Racing won Chassis Manufacturer of the Year.
"We are really fortunate to work with great manufacturers and to see both Shaver and J&J get recognized is a big deal," said Schatz. "Ronnie (Shaver) and Jack (Elam) are two of the finest people you can work with and I'm thrilled we've reached this level of performance with them. We're looking forward to our seventh season with them in 2007."
UP NEXT
Fresh off a championship celebration, the 2006 World of Outlaws champion is already getting back to business. Donny will return to the driver's seat next weekend during a three-race trip to Western Australia (November 8, 10 and 11). He'll return home for a month before leaving again in late December for a four-week schedule at Parramatta City Raceway near Sydney.
The ParkerStore team will begin their defense of the World of Outlaws title on February 9, 2007 at Volusia Speedway Park near Daytona Beach, FL.
Keep up with all the latest news and information on Donny Schatz by visiting www.donnyschatz.com and www.parker.com/racing.